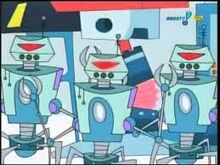 The Construction Drones are robots created by Susan and Mary who are used to aid them in building their inventions. Johnny, however, uses them whenever he can to his advantage. (First created in Johnny's House of Horrors,)
Abilities
they can build everything that they were commanded to do. from tables, benches and pancakes, to giant and advanced tree houses or a houses referencing a horror show. they have the ability to turn their hands to brushes and tools and transform their feet to wheels. they're intelligent, fast and handy. but they do have some weaknesses, such as working so fast and hard makes them to get short-circuited.
History
They appeared in many episodes, some of them are:
Trivia
Their alternative counterparts are Destruction Drones; they destroy everything they've been commanded to.
Gallery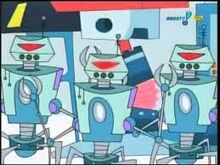 Community content is available under
CC-BY-SA
unless otherwise noted.