"This page is still in the proto stage." – Susan

This page is incomplete!
It's Easter, Johnny Test!
is the second part of the 113th episode and the 226th episode over all. The episode premiered on April 9, 2014.
Synopsis
Porkbelly's Annual Easter Egg Hunt is sabotaged by Dark Vegan when he turns the festivities into a hunt for Johnny. On the other side, Johnny and Dukey want to win from Mary and Susan in egg hunting.
Plot
TBA
Trivia
This is an Easter Special, so the intro is styled like Easter.
This is the ninth special for the series and the only one revolving around Easter.
This episode aired before Gil-Stopping Johnny.
Goofs
Quotes
I just smell candy.
Maybe it doesn't work.
Oh it works it just doesn't turn things into the rotten you're thinking of.
Oh rotten as in mean little suckers?
Gallery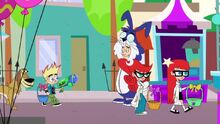 Community content is available under
CC-BY-SA
unless otherwise noted.