"We've got to save the world!" – Johnny X

This page is about the real world.
Lee Tockar
(Born February 11, 1969) is a famous
Canadian
voice actor
who works for several studios in
Vancouver
. He is also a writer of children's literature, a musician, sculptor, illustrator and a collected painter. Lee was born with
cone dystrophy
and is currently a member of the
Canadian National Institute for the Blind
.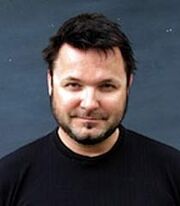 Roles
Television animation
321 Penguins (Doctor Fidgel)
Adventures of Sonic the Hedgehog (Additional voices)
Arjuna (Seed Med-Tech)
The Cramp Twins (Dirty Joe Muldoon)
Death Note (Gukku, Takuo Shibuimaru, additional voices)
Dinosaur Train (Craig Cretoxyrhina)
Dokkoida?! (Emerald promo narrator, Hana Hajime, Hana Momoncho, Orange Tentacle Twin)
Dragon Booster (Parmon Sean, Khatah)
Dragon Ball Z (Elder Morai)
Dragon Drive (Rockaku)
Ed, Edd n Eddy (Victor)
Extreme Dinosaurs (Haxx, additional voices)
George of the Jungle (George, additional voices)
Human Crossing (Regional editor, additional voices)
Inuyasha (Izumo/Gyuō)
Iron Man: Armored Adventures (MODOK, uncredited)
Johnny Test (Eugene "Bling-Bling Boy" Hamilton, General)
League of Super Evil (Doktor Frogg)
Make Way for Noddy (Additional voices)
Master Keaton (John, priest)
Mega Man (Vile)
MegaMan NT Warrior (Higsby, WoodMan)
Mobile Suit Gundam Seed (Haruma Yamato)
Mobile Suit Gundam Seed Destiny (Ian Lee, Malik Yardbirds, Herbert Von Reinhardt)
Mobile Suit Gundam 00 (Joshua Edwards)
Monster Rancher (General Durahan, Captain Dokoo)
¡Mucha Lucha! (Carlton Cold Jones, El Loco Mosquito
My Little Pony: Friendship Is Magic (Snips, Steven Magnet, Spot the Diamond Dog, Curio shop owner, Beaver foreman, additional voices)
Oz no Mahou Tsukai (Toto)
Pani Poni Dash! (Yankee) (uncredited)
Pucca (Abyo, Dada, Tobe)
Soul Taker (Umon)
Storm Hawks (Wren)
Street Sharks (Ripster/John Bolton)
The Wacky World of Tex Avery (Ghengis)
X-Men: Evolution (Lucid)
Yakkity Yak (Yakkity Yak)
Yam Roll (Yam Roll)
The Twisted Whiskers show (Dash, Zippy)
Films
Live-action television
Video games