The Mega Mutant Fearsome Force 4 are a super hero team that come at the end of "The Destruction of Johnny X". There were 4 members in the team, Johnny, Dukey, Susan and Mary.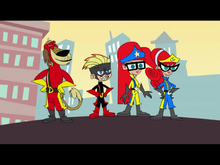 Members
Johnny-X (Johnny) (leader).
Super-Dukey/Pooch (Dukey) (second in command).
Sini-Storm (Susan) (third in command).
Viliana (Mary) (last in command).