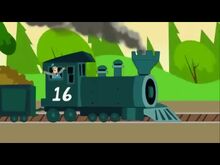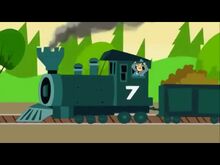 The trains of Porkbelly consist of steam locomotives mostly in the destruction of Johnny X. The first train Locomotive number 16 was heading toward a destroyed bridge with passengers. It was saved by Johnny X and Super Pooch. Then locomotive number 7 was involved in a broken bridge and Johnny X and Super Pooch hold on to both ends so that it can be crossed. This time, the coach cars were red and yellow. Then a near-collision occurred when locomotive 7 and number 12 were about to crash, then Johnny X stopped it again. Then, number 16 was about to crash by overspeeding the curve and Johnny X failed to stop it, therefore it derailed and was destroyed. The last one, 16, which was probably repaired, was running lights and was out of control was heading for a building and saved once again.
In Porta-Johnny, locomotive 56 appears when Johnny is on the bridge and it nearly runs them over.
The steam locomotives were probably retired into diesel locomotives.
It was said that the train system was messed up.
They are based off of the 4-6-0 locomotives, but a more of a curved smokestack makes it look like the 4-4-0 locomotive.
Locomotive numbers
Locomotive #16 pulled the coach train as it was about to crash into the ravine.
Locomotive #7 pulled another coach train (with red and yellow cars) as it was about to hit a broken section of a bridge.
Locomotive #7 nearly collided with locomotive #12.
Locomotive #16 derailed as it hit the building but was then later repaired.
Locomotive #16 again: runaway.
Locomotive #56 nearly ran Johnny over.
Despite the fact that locomotive #7 and #16 appear in most of the scenes, they probably have braking failure.
Porkbelly railway
It has been said that the railroad has been called the Porkbelly Railway. It is a passenger and freight line. It seems to have problems of their own.
Unknown engineer
There is an unknown engineer in the episode The Destruction of Johnny X He seems to be unwilling to fix the railroad.
Community content is available under
CC-BY-SA
unless otherwise noted.