Trevor Devall (born November 10, 1972) is one of the various voice actors who work for Ocean Group, in Vancouver, British Columbia, Canada.
Trevor has performed various anime roles, most notably Mu La Flaga of Gundam SEED. Other anime roles include Mukotsu of InuYasha's Shichinin-tai, as well as the multiple faces of Alpha-Q, and all Terrorcon drones, on Transformers Energon. In prelay animation, he has provided the voice of Pyro on X-Men: Evolution. He also voiced Hermiod on Stargate Atlantis. Most recently, he has become the new voice of Dukey Dog in Johnny Test and he is close friends with Dukey's former voice actor Louis Chirillo.
On My Little Pony: Friendship is Magic, he is the voice of Hoity Toity, Fancy Pants, Iron Will, and the instructional film announcer.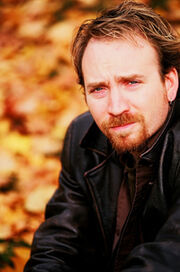 Community content is available under
CC-BY-SA
unless otherwise noted.